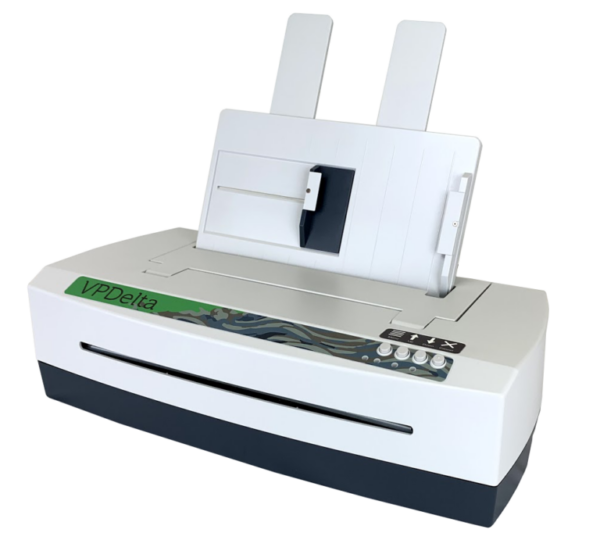 120 CPS | Cut-Sheet Paper
Producing double-sided braille and tactile graphics has never been easier with the VP Delta braille embosser! This versatile braille embosser can emboss anything from short notes to long documents. You can even create braille business cards, braille labels and so much more!
Product Price
$4,195.00

Click to add this item to cart.
Size:
20.5in x 10.2in x 5.1in

(LxWxH)
Product Description
Get fast, reliable braille with the VP Delta 2 with Power-Dot Braille! Embossing at 120 CPS, this double-sided embosser gives you Library of Congress standard braille with the highest-resolution tactile graphics. And for those wishing for an extremely strong braille dot, the NEW Power-Dot Braille is now available!
New "Power-Dot Braille"
Aiming for the ultimate in braille quality, ViewPlus collaborated with Braillo to create a braille dot on a desktop embosser like the braille dot made by a Braillo production embosser. The result of that collaboration is Power-Dot Braille.
Power-Dot Braille makes the strongest, most tactile braille dots available from any desktop braille embosser but still maintains a pleasing rounded dot shape. For the first time, it is possible to have production-quality braille on a desktop embosser.
Superior High-Resolution Tactile Graphics
The VP Delta 2 offers the highest-resolution tactile graphics available on an embosser. With 8 different dot heights, users can create distinct tactile graphics more easily than other embossers. Even if images have intersecting lines, like graphs, readers can easily distinguish lines and grids, which can be embossed to different heights.
Braille & Tactile Graphics Software Included
Tiger Software Suite (TSS), is your complete solution for producing braille and tactile graphics. TSS makes it easy to get accurate braille translation in seconds. Insert text and graphics within familiar programs such as Word and Excel and translate with the touch of a button. TSS is great for users of all skill levels!
Most Versatile Braille Embosser
Whether you need to emboss documents, braille labels, business cards or even long book the VP Delta 2 is the answer! And being the most versatile braille embosser on the market, it's a great choice for home use or volume production. Use standard cut-sheet office media for all of your embossing needs and you won't be disappointed.
Add Wireless Embossing
Add the optional VP Tiger Box and transform your embosser into a wireless printer to emboss directly from your computer or mobile device. Send files from any Android or iOS app that lets you print and have the Tiger Box automatically translate and emboss for you on your VP Delta 2 – it's that easy! You are no longer limited to only embossing documents made on a computer and saved in a specific format. With the VP Tiger Box and VP Delta 2 you can emboss directly from your web browser, email, appointments and lots more!
Highlights:
120 characters/second double-sided braille embosser
NEW Power-Dot Braille – the strongest, most readable braille dots available on a desktop embosser
High-resolution tactile graphics – 8 dot heights for greater detail
Individual cut-sheet paper – for the widest selection of media!
Emboss documents, business cards, braille labels and more!
Includes Tiger Software Suite – braille and tactile graphics software
Full online library of free training materials
Local support and repair service
Standard 1-year parts and labor warranty
Add optional Tiger Box for wireless embossing and embossing from popular notetakers like the Polaris or BrailleNote Touch
Includes Tiger Software Suite
Reviews