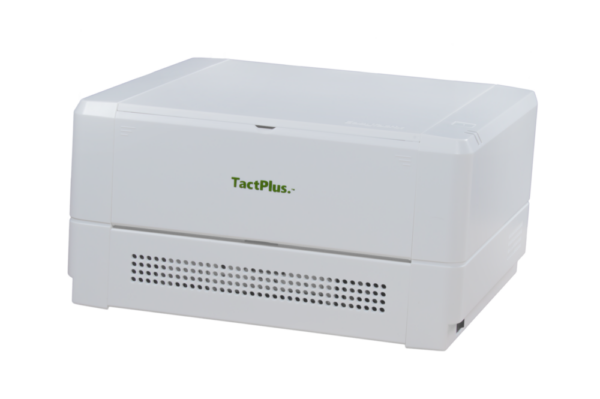 TactPlus is the world's most powerful, versatile and portable braille and 3D imaging printer in existence.
Product Price
$1,400.00

Click to add this item to cart.
Size:
12.44in x 11.535in x 7.362in

(LxWxH)
Product Description
Our revolutionary printer is improving quality of life for the visually impaired across the world.
It's the groundbreaking technology inside the printer that allows it to deliver a lighter, quieter, and more affordable printer. The TactPlus Printer uses Thermal Technology and Capsule Paper. By heating the paper, braille and graphics can be made with only 1 step.
TactPlus was designed to be a mobile printing solution, it's small, lightweight, and can be easily taken on the go. Print braille anytime, any place.
As a graphic tactile printer, TactPlus helps volunteer and educational institutions. 3D imaging assists the visually impaired learn through touch.
Features:
Braille printing and 3D imaging in one printer
Mobile printing. Our printer is small and weighs about 5kg.
Print silently. Only a feeding sound of less than 50 decibels can be heard while printing.
Our printer is user friendly. We've included sound guidance to assist visually impaired.
Low Price. Our printer is more cost effective and affordable than other braille printers due to our revolutionary printing process.
USB, Wireless, and LAN Interface.
MSRP: $1,400
Reviews