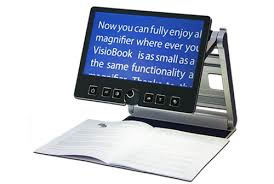 The mobile VisioBook HD, is a lightweight (approx 7 pounds) portable magnifier that folds flat like a notebook for easy transportation or storage. Thanks to its compact size, VisioBook HD fits in the supplied carry bag, or stored in a drawer when not in use. Move between classes at school, between offices at work, or take it with you when you travel. VisioBook HD is like a magnifying glass with a larger screen, except that with VisioBook HD, your hands are free during reading. With the rechargeable battery, VisioBook HD can operate for 5 hours. So you can use it virtually anywhere, including home, work, school, at the library, or when you travel.
Product Price
$3,200.00

Click to add this item to cart.
Size:
13.4in x 12.2in x 12.6in

(LxWxH)
Product Description
Features of VisioBook HD and VisioDesk:
Lightweight and portable
Folds and stows in seconds
Superior image quality, due to full HD camera, signal processing, and screen
Full HD camera for distance and close-up viewing
Viewing comfort with 12.5" or 15.6" screen
More than 5 hours of battery life
Simple and intuitive operation
Modern and timeless design
The ideal companion for reading and working on the move
Wherever you need magnification assistance, VisioDesk and VisioBook HD offer high quality magnification in a portable, lightweight design. Small text passages and objects can be magnified up to 40x with VisioDesk, and up to 30x with VisioBook HD. Both models provide full HD resolution with true colour contrast, enhanced view (positive and negative), and a variety of foreground and background colour combinations, such as yellow on black. The image optimizer and the auto focus add the finishing touch to the superior image quality.
Both models are very easy and intuitive to use. The camera rotates back and forth as you switch between the Mirror, Distance, or Reading modes. Regardless of the viewing mode you choose, enjoy the same high quality, full HD image.
Folds like a Notebook
Thanks to the ingenious folding system, VisioDesk and VisioBook HD collapse in seconds, making them easy to move around, and ideal for storage in small spaces. Whether they are placed in a drawer, or in the supplied carry case, VisioDesk and VisioBook HD fit your needs in more ways than one.
The screen is also adjustable for height and viewing angle, ensuring an optimal position for comfortable reading, whether sitting or standing. The more than 5 hours of battery runtime helps you work anywhere, even when electric power is unavailable.
Reviews