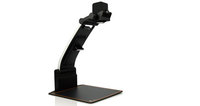 The portable magnification system for professional users
Product Price
$4,495.00

Click to add this item to cart.
Size:
13in x 15in x 20.5in

(LxWxH)
Product Description
For all professionals
MagniLink PRO is intended for visually impaired professionals at work. It is a very complete system right from start and it will cover the needs for most users in most situations.
MagniLink PRO features:
Superior FHD 1080p reading/distance/mirror camera
Ergonomic Control box with programmable buttons
Pre-installed battery for increased flexibility
Portability – it's easy to fold and unfold and comes with a carrying bag
Software for PC/Mac – including software Split functionality (optional)
Dockable X/Y-table with friction brakes (optional)
Adapt it individually with the following options:
TTS Software Win – scan a full A4 page in just a few seconds
TTS Software Mac – scan a full A4 page in just a few seconds
Dockable X/Y-table with friction brakes
Everything fits
MagniLink PRO leads the market with regard to working height – meaning that just about everything (including large books and file folders) will fit below the camera.

Everything connects
MagniLink PRO can be connected to most PCs and Mac computers – or directly to a monitor or smartboard. Total freedom!

Everything shows
High-quality camera with FHD 1080p in reading/distance/mirror mode deals with everything you need. The FHD resolution, combined with a powerful 20x optical zoom and a number of LVI image enhancement techniques, makes sure that you will always get a crystal clear, sharp and detailed image with natural and rich colours at all magnification levels.
Use everywhere
MagniLink PRO is portable. It's easy to fold down and unfold and your desk can be quickly cleared when you leave the office. It also comes with a carrying bag for easy transportation, e.g. from work to home.  Includes a battery for even more flexibility – and you can use it for up to 9 hours wherever you want.

Saves everything
Capture pictures with the reading camera – or record lectures with the distance camera and watch them again.

OSD – On Screen Display
Selected functions are confirmed with clear information on the screen – you can always be assured that the correct function is selected. Choose between several languages in the OSD menu.
Use your own software
The included MagniLink S software is compatible with several other commonly used software, such as ZoomText, SuperNova and iZoom in Windows 7/8/10.
Add your own functions
The included control box controls all functions and allows an ergonomic position. Two buttons are programmable and can be set to your most frequently used functions and settings.
Powerful accessories
Personalize MagniLink PRO with a convenient XY table and/or TTS (Text to Speech).
Reviews