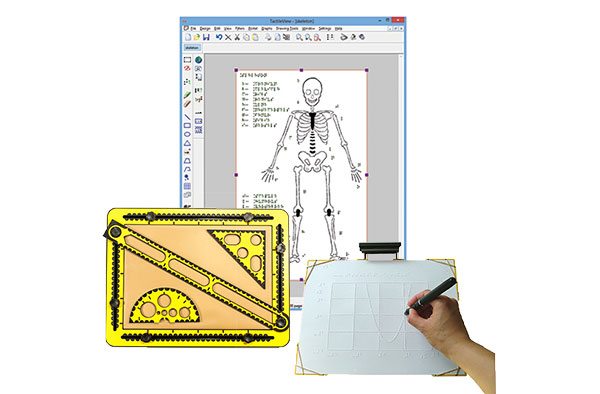 The TactileView Design Suite is a fully accessible tactile graphics system that allows both sighted and visually impaired user the ability to create tactile graphics fast and efficiently. The system consists of 3 main components: Tactipad Drawing Tablet, TactileView Design Software & the Graph Grid Frame and Circle Frame which provides users with the tools to draw graphs, tables, pie charts and much more!
Product Price
$1,299.00

Click to add this item to cart.
Product Description
The TactileView Design Suite has 3 main components:
1) TactiPad Drawing Tablet – Draw raised graphics instantly!
Place the drawing paper on the tablet and use a pen or stylus to begin drawing. As you draw a raised line will appear so you can see the results instantly
Or draw using the digital pen and your drawings will be stored electronically. Then use the TactileView Design Software described below to continue editing your image if necassary.
2) TactileView Design Software – Create your own tactile graphics!
Use the drawing tools within the software to make custom graphics.
Import or scan images and convert them to line drawings
Add braille and audio labels to create even more interactivity
Preview the free online catalog for thousands of pre-made images
3) Graph Grid Frame and Circle Frame – These accessories provide users with the tools to draw graphs, tables, pie charts and much more!
The TactiPad has many applications: it is the ideal drawing board for leisure activities, schoolwork or in your professional career. It can even be used on the go. You can choose whether you want to make a simple sketch by hand, or use the different drawing tools – ruler, triangle, protractor and compasses – for highly accurate drawings. Eight adjustable buttons and measurement indicators around the drawing surface allow you to accurately fix the tools while drawing.
By combining the TactiPad with the TactileView drawing and production software, the drawings that you create can be saved on the computer as well. This method of drawing enables VIPs to create digital images in TactileView.
Reviews