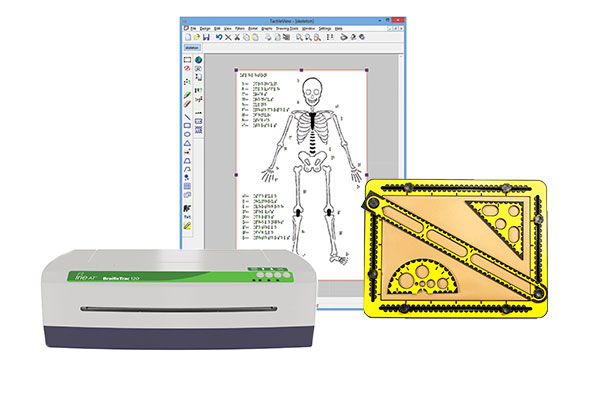 This comprehensive software and hardware solution will save time and money in creating braille and tactile graphics for all subjects. Use one of the many methods within the TactileView software to create your graphics and send it to your IRIE or ViewPlus embosser for a super-high-resolution tactile printout.
Whether you are creating accessible classroom materials, transcribing braille books, need the ability to draw independently or have to make an accessible campus map, this solution provides all the tools you need at the most affordable price!
Product Price
$2,695.00

Click to add this item to cart.
Product Description
TactileView makes graphics easy!
With TactileView products, there is no need to spend hours on a single tactile graphic just to recreate it again for another person. TactileView products allow you to easily reproduce tactile graphics you have already created, or you can simply download one of hundreds carefully crafted graphics from our catalog!
Highlights
Creating tactile graphics has never been easier, more fun or inclusive
Draw your own tactile graphics – multiple methods for universal inclusion
Import and simplify images – convert bitmap & scanned images into line drawings
Add braille text labels to tactile diagrams
Create braille/tactile graphs instantly – enter a formula and graph is created automatically
Make tactile street and campus maps
Emboss super high-resolution tactile printouts
Package Includes:
Embosser of your Choice
TactileView Design Software
Tactipad Drawing Tablet
Audio Reading System
Reviews