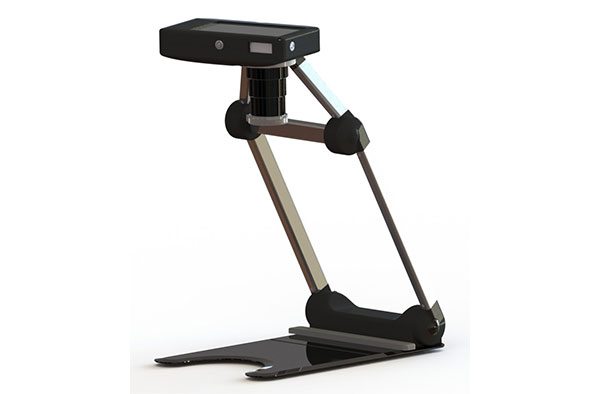 This versatile 3-in-1 camera offers 3 viewing modes, making it easy to view objects that are close-up, see materials on your desk and even watch presentations or read signs across the room making it the perfect system for students and professionals!
Product Price
$2,995.00

Click to add this item to cart.
Size:
11in x 6.6in x 1.7in

(LxWxH)
Product Description
The Scholar HD is an exceptionally high resolution 3-in-1 autoreader/CCTV system that is compact and lightweight. With a fold flat design and weighing just 2.6 pounds, the Readit Scholar HD is the ideal solution for users on the go.
Including full close-up and distance view functionality, the Readit Scholar HD has the unique ability to capture both closeup (up to tabloid size paper) and distant objects. Any text can then be automatically displayed on screen and read aloud in seconds!
Using the included Readit software, users can experience nearly unlimited magnification levels, enhanced contrast modes, adjust line spacing, and listen to the document.
Highlights:
Industry-leading OCR – capture an entire 11×17 page at once
Better than 20/20 vision – view, scan and read small text across the room!
3-in-1 camera provides close, distance and self-view
Audio and video output – reads back to you aloud and onscreen
720p resolution with up to 60 fps for a smooth image
16 enhanced color combinations and 21x optical zoom
Fold flat design for maximum portability
Automatic switching between close up and distance modes
Large view can capture an entire whiteboard or projector
Optical and digital stabilization reduces image shake
Reviews