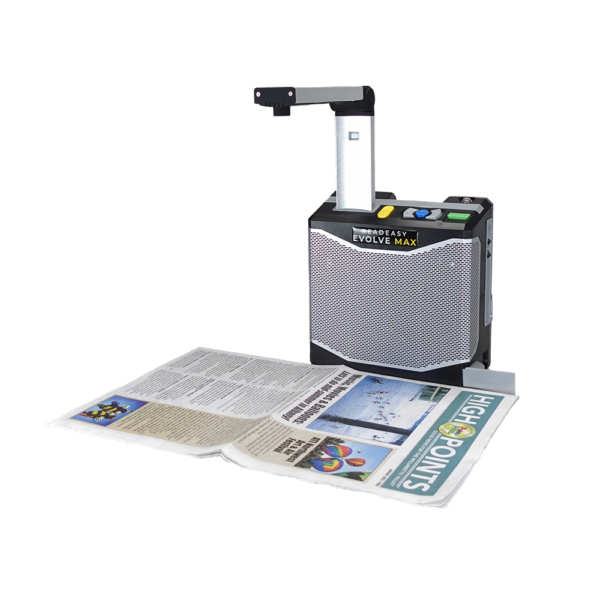 This stand-alone reading machine is the fastest and most accurate on the market!
ReadEasy Evolve is a portable machine that reads to you. It translates any printed text into crystal clear speech within seconds. Newspapers, Letters, bank statements, books, recipes, product packaging, and more, are all read with ease. It's the stand-alone reading machine that can read documents at large as 11″x17″ in size such as an open textbook!
ReadEasy Evolve is for anyone who needs quick, easy and accurate access to printed material. Listen to text a press of a single button!
The ReadEasy Evolve has been specifically designed to be as simple as possible to set up and use. With its intuitive control system comprising just 6 buttons, it is ideal for users of all ages.
Product Price
$2,495.00

Click to add this item to cart.
Size:
9.8in x 11.8in x 12.6in

(LxWxH)
Product Description
Offering both magnification & text-to-speech; evolves with you as your eyesight changes
Scan and read documents up to 11″x17″ in size
Uses NEW 18MP camera for superior image quality
1-Button press for quick and accurate reading of text
No waiting needed as reading starts in as little as 3 seconds
Lightweight and compact for ultimate portability

IntelliCapture –

Prevents capture when a document is being moved
Latest camera and recognition technology for accurate text – even with small font sizes!

Glossy, complicated, and curved objects are accurately captured
Supports multiple languages, including Spanish
Add Optional Feature Pack for increased functionality

Connects to a monitor to see words highlighted during reading
Compatible with touchscreen monitors for simple navigation
Allows you to export scanned documents to your PC for later use
Reviews