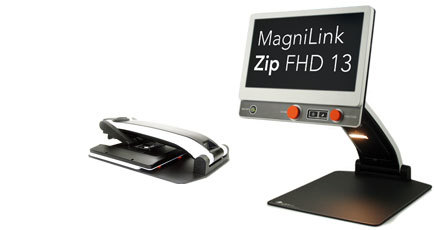 Full HD, portable, video magnifier with outstanding picture quality. Comes in your choice of either 13.3″ or 17.3″ monitor.
Product Price
$3,245.00

Click to add this item to cart.
Size:
13in x 17.5in x 20.1in

(LxWxH)
Product Description
MagniLink Zip is a true, portable, Full HD video magnifier with reading and distance camera as well as a low-vision adapted 13.3″ or 17.3" monitor. It has all the functions offered in a desktop video magnifier, but can be folded and carried to another location easily and comes with a carrying case. The camera also provides a Mirror mode, ideal for make up and similar.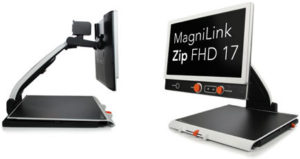 This is a good choice for users that read frequently and sometimes need to move their video magnifier between different locations, for example home and work, hotel, summer house, etc. The stylish, space-saving design makes MagniLink Zip easily placed in both homes, schools and workplaces.
Full HD provides the greatest image quality ever and is the best choice for RP users because it offers incredible contrast and low initial magnification.
A slim, dockable X/Y table with friction brakes X- and Y-wize for smooth and convenient reading is available as option. Other accessories are a battery, providing up to 4.5 hours operation, computer connection and TTS-software for PC and Mac, that can be used to OCR-process printed text and have it read aloud.
Reviews