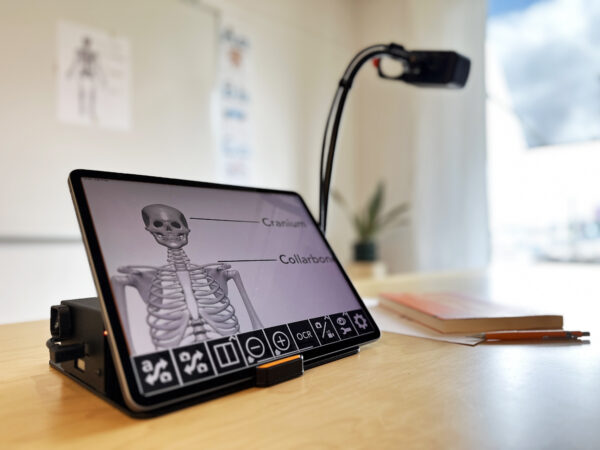 LVI offers two different solutions suitable for iPad; MagniWifi and MagniLink WifiCam. MagniWifi is a box that connects an iPad to a MagniLink video magnifier, such as MagniLink S Premium 2, while MagniLink WifiCam is an all-in-one-solution that conveniently is connected directly to an iPad. Both solutions offer high quality and mobility standards, combined with superior image quality, modern technology and smart features.
Product Price
$1,395.00

Click to add this item to cart.
Product Description
Innovative software and easy installation
The MagniLink Viewer App puts you in full control of all the functions, such as magnification, artificial colors, split camera modes,
reference lines, OCR, Save Images, Video recording and more. Download the MagniLink Viewer for iOS and wirelessly connect your
iPad – and you're good to go.
MagniWifi
Simply plug in the MagniLink video magnifier of your choice to the MagniWifi box with a single cable and connect wirelessly to an iPad.
MagniLink WifiCam
A Reading/Distance Cam as well as a built-in stand for iPad is included – just connect wirelessly to your iPad and get started.
Technical specifications:
Data                                   MagniWifi                    MagniLink WifiCam
Weight:                               50.1 oz                         97 oz
Dimensions (w/d/h)            9.8/4.0/2.4"                   11.8/8.7/17.7"
Magnification range:           x*                                  0.8-40x**
Software:                            MagniLink                     MagniLink
Viewer for iOS              Viewer for iOS
Battery time:                       5.5 hours                      5.5 hours
Included:
MagniLinkViewer               Yes                                Yes
for IOS
Reading/Distance              No                                 Yes
camera
Built-in stand for iPad        No                                 Yes
iPad                                   No                                 No
Reviews