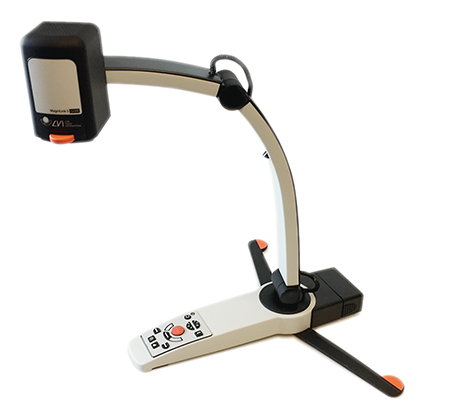 The ultimate video magnifier for you with high demands on both quality and mobility. Connects to either a PC, MAC, or Chromebook!
Product Price
$3,995.00

Click to add this item to cart.
Product Description
Fits all your needs
MagniLink S Full HD Premium 2 is the ultimate video magnifier for you with high demands on both quality and mobility. It offers superior image quality, modern technology and really smart features. It's also easy to carry, for example, between home and school or a workplace – and can be connected to a computer (PC/Mac/Chromebook) or a monitor. Thus, you can choose the features and options that fit your needs.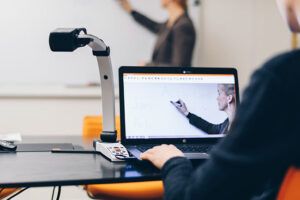 Superior image quality
MagniLink S Premium 2 excels in brightness, sharpness and contrast, and the unit has the latest technology. The result is an superior image for maximized reading speed and reading endurance.
Full HD quality
The MagniLink S Premium 2 with Full HD (1 080p), an image transfer of 60 full digital frames per second, high brightness/contrast and a high quality, light sensitive camera lens, for flicker-free images and sharp edges offers exceptional image quality. With Full HD, even more details can be viewed in texts and images and the sharpest possible image in both reading and distance mode. Full HD also offers an even lower initial magnification, providing a better overview of the materials to be scanned and OCR processing of a full A4 page (US Letter) with optional TTS Text To Speech feature.
Simple and flexible
MagniLink S Premium 2 is always accessible; sets-up and is ready to use in virtually seconds. The foldable support legs minimize the footprint, and makes it possible to place the unit tightly alongside a laptop, either on the left or the right side. Fits perfectly also on small desktops. It's easy to switch between distance and reading mode. Just turn the camera head anf flip up the camera lens and your MagniLink S Premium 2 becomes a distance camera in a second. The user will never worry about battery strength or misplaced battery chargers as the unit is powered by the computer.
Included software
Software for computer connection is included. The software controls the units features, such as magnification, artificial colours and brightness and provides the user with the facility to make individual adjustments for the best possible experience. For increased participation – in school, at work and at home! The software is available in versions for PC (see MagniLink PCViewer), Mac (see MagniLink S) and Chromebook (see MagniLink ChromeViewer) – all of them have unique and innovative features.
MagniLink S Premium 2 is compatible with assistive software such as ZoomText and SuperNova.
TTS (Text to Speech) as an option for PC and Mac
For PC and Mac you can add TTS (Text To Speech) as an option. It provides multiple functions, including speech output. To have text read aloud enables increased reading speed as well as endurance. Text is read line by line, word by word, character by character, picture and word and picture and line, and can be presented on the screen, synchronized with the audio. The software automatically detects the language being used in the text and reads the text with a corresponding voice.
The text can be saved and opened in a text editor for proofing or processing. Up to a full A4 page (US Letter) can be scanned at once and by using keyboard commands you can quickly and efficiently scan multiple pages in a matter of seconds.
Clever accesories
We offer a wide range of unique accessories that make your MagniLink S Premium 2 more useful, effective and even smarter. For example:
Smart docking stations. With a docking station you convert your MagniLink S Premium 2 into a stationary system when needed. Dock and undock in seconds to switch between a stationary and a portable system. All docking stations are supplied together with an external control panel. You can choose between docking station with X/Y table, docking station with table clamp or docking station with plate.
High quality monitors from LVI (18,5″ or 23″), developed for low vision users.
Included two-in-one carrying case, large enough for the unit and a 15.4″ laptop.
Motorized distance camera for situations where a dual camera solution is needed.
Reviews