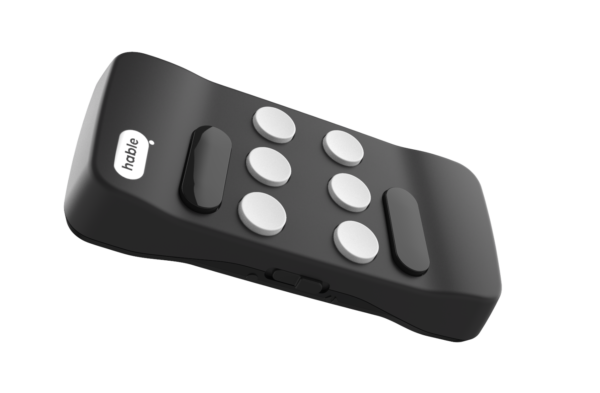 The Hable One external keyboard simplifies smartphone (or tablet) use for individuals with visual impairments through its intuitive touch commands – making navigation effortless for all.
Product Price
$249.00

Click to add this item to cart.
Size:
4in x 1.8in x 0.3in

(LxWxH)
Product Description
For those with visual impairments, smart phones can sometimes be complicated and inconvenient to use. Even with built-in accessibility features, phones and tablets often require users to use a touch screen to navigate the device.
The Hable One braille keyboard is designed to solve this by providing physical keys to control your phone – no more swiping required!
Hable One is designed to assist your smartphone or tablet with a simple and intuitive interface. Contact your loved ones using your Hable One as a wireless keyboard or use it as a remote to control every function in your smartphone. The Hable One is a pocket size device with an eight key Braille keyboard. With this keyboard, the user can fully control their iOS or Android phone or tablet.
The Hable Keyboard is perfect for the person who loves the versatility of their smart phone or tablet but does not like interacting with the touch screen. About the size of an iPhone 6, the Hable connects via Bluetooth to your phone or tablet.
Why you use the Hable One
Use it anywhere.
The wireless and ergonomic design allows you to use it wherever you want even walking or travelling.
Easy to use and learn.
The intuitive interface makes your Hable One easy to use and learn. In a few minutes, you will be able to control the basic commands.
Take control.
Thanks to the six tactile buttons with two additional function keys for typing you will navigate with confidence even having your smartphone saved in your pocket.
What's in the box:
Your Hable One
USB-C cable for charging and software updates
Wristband to prevent dropping
User manual
Braille manual on request
Technical specifications:
Lightweight: 90 grams
Battery life: 50 hours
Dimensions: 100 x 46 x 8mm
Devices supported: Android and iOS, for both tablets and phones
Typing support: Windows and MacOS
Braille input: 6 point Braille, Liblouis
Supports 10+ languages
Unique text editing experience. Easier than any alternative.
Made with sustainable recycled plastic
Reviews