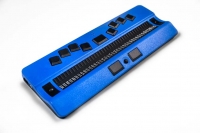 Active Braille is the the ultimate 40-cell Braille display with notetaker function and multi-Bluetooth. Includes patented ATC technology.
Product Price
$6,495.00

Click to add this item to cart.
Size:
12.48in x 4.84in x 1.1in

(LxWxH)
Product Description
The Active Braille 2021 is a 40-cell Braille display and the consistent further development of the proven Active Braille. It is even more compact, ergonomically optimized with improved controls and even more functionality. The Active Braille 2021 is the ideal combination for laptop, PC and smartphone.
Not only as a Braille display but also as a powerful organizer, the Active Braille 2021 convinces with space for hundreds of books (64 GB storage), an ergonomic and very quiet Braille keyboard, control key, joystick and vibration signals.
Enjoy pure reading pleasure by automatically scrolling to the next book via patented ATC technology. With multi-Bluetooth and a battery life of approx. 40 hours, the Active Braille 2021 is the ideal companion for on the go.

The advantages at a glance:
40 concave braille elements with cursor routing

adjustable Braille pin strength
Braille keyboard, ergonomic and very quiet
Patented ATC technology recognizes the reading position
integrated organizer functions like editor, calculator, planner, etc.
control key (Ctrl key)
Multi-Bluetooth for Braille and sound with three devices simultaneously
audio coupling with iPhone
MP3 player for playing music and audio books
high quality stereo speakers
vibration signals
64 GB memory, mass storage
rechargeable Battery life up to 40 hours
The ideal mobile Braille display
The Active Braille is directly usable thanks to HID technology and is immediately recognized by all screeen readers e.g. JAWS, NVDA, VoiceOver. Connected via USB C, the Active Braille is controlled and charged.
Multi Bluetooth
In addition to the USB-C connection, multi-Bluetooth allows wireless connection of 3 additional smart devices for Braille and audio.
The pure reading pleasure
Hundreds of books (64 GB) can be read effortlessly with the patented ATC technology. No more annoying switching, just pure Braille reading pleasure. With 40 hours of battery life, the Active Braille 2021 is ideal for on the go or comfortable on the sofa.
Organizer ToGo
Open the carrying case, switch on and off you go. Instantly, without waiting time you can make notes even while standing. The Active Braille 2021 offers comfortable notetaker functionality and many features of an organizer like scheduler, clock, alarm clock, player and MusikBraille via polyphonic sound chip.
The notes – whether in school, study or work – can be easily transferred. Just paste them directly into an email or WhatsApp and send them off.

The control center
The additional space bar, centered between the Braille keys, can be used to enter direct control commands to the computer. The Ctrl key interrupts the speech output, for example. Even starting the screen reader is possible this way.
e.g. Chord j+7+8 to start JAWS (Shift + Alt + J).
The additional space bar is especially well placed for small hands, making it easier to type notes.
Discrete vibration signals
Using left/right combinations of vibrations, the Active Braille 2021 discreetly emits signals via two vibrators. With super-quiet braille keys and braille modules combined with vibration signals, the Active Braille 2021 is ideal in the classroom or at meetings. The vibration signals can also be combined with sound signals.
Sound output with MP3 player
Music, audio books or audio descriptions are played by Active Braille 2021 through high-quality stereo speakers. Entire playlists can be played while taking notes. Playback of audio books can even be done in double or triple speed.
Reviews