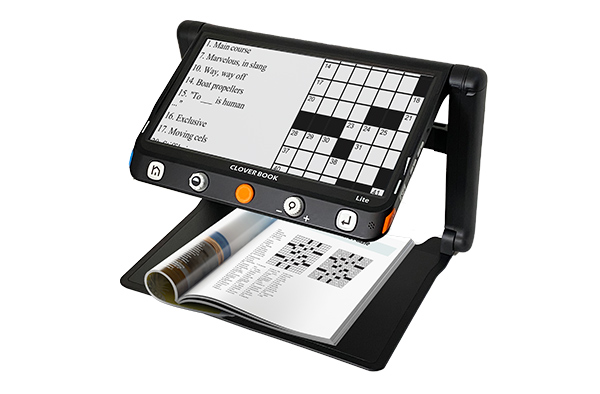 CloverBook Lite, from SightCare, is a 12.5-inch FHD touchscreen video magnifier; all in a light, foldable, extremely portable unit, complete with an attractive protective carry case. CloverBook LITE is powerful but simple to use; with traditional (tactile) controls, like magnification and contrast knobs. It also has a touchscreen for people who prefer to use that.
Product Price
$1,895.00

Click to add this item to cart.
Size:
14.89in x 10.32in x 10.16in

(LxWxH)
Product Description
Large-Screen Video Magnifier – Portable & Foldable!
CloverBook LITE, is a large, 12.5-inch FHD touchscreen video magnifier; all in a light, foldable, extremely portable design! The device comes equipped with an integrated foldable stand so you can simply place it on a table or desk, unfold the unit begin using it. It's that easy!
Easy-to-Use
Navigation is simple too! Use the traditional tactile buttons or knobs for magnification and contrast or use touchscreen gestures to move seamlessly through the device.
Versatile Device
The large 12.5" full-HD screen makes it easy to browse the newspaper, read a book or look at your favorite photo album and the best part – you can adjust the angle of the screen to the position that feels right for you! There is plenty of space between the screen and the stand to enjoy your favorite hobbies like writing, painting or doing craft.
Foldable, Space-Saving Design
And once you are done using the magnifier you can quickly fold it up and store it away or take it with you when you go on vacation.
Blend of Traditional Desktop & Modern Portable
The CloverBook LITE is ideal for users who want a simple, large-screen video magnifier that folds down into a portable space-saving device. With large, tactile buttons and touchscreen capabilities it's the perfect blend of a traditional desktop magnifier and a modern portable device all wrapped into one. Enjoy reading, writing, doing hobbies and so much more!
Highlights
12.5-inch FHD (1080p) matte touchscreen
4K (60fps) camera resolution for reading (1x-60x)
Light, portable and foldable – carry case included
Choice to use traditional tactile controls or touchscreen
Live panning – explore live, zoomed images without moving the device
Photo mode and 16 high contrast modes
Continuous use up to 3 hours – user rechargeable/replaceable battery
Fold-out, integrated stand provides a proper angle for reading and writing
Great for reading cookbooks, newspapers,

  

magazines, writing letters, signing checks or even completing crossword puzzles and playing sudoku!
Reviews