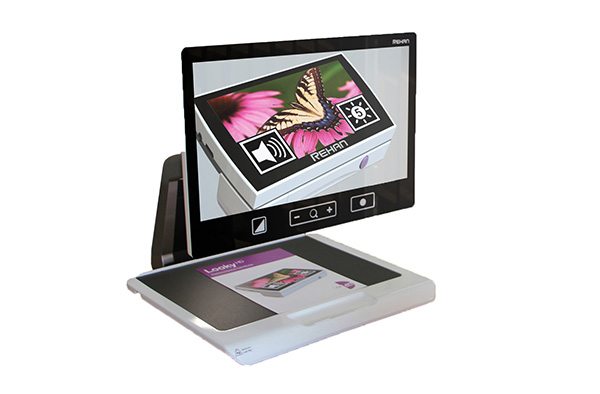 The Acuity has an image quality that is unsurpassed in the industry. Sporting a 22-inch widescreen display at a full HD 1080p image resolution, the Acuity is certain to please.
Product Price
$2,695.00

Click to add this item to cart.
Size:
18.9in x 18.9in x 25.6in

(LxWxH)
Product Description
The Acuity HD includes a 22-inch Full-High-Definition (1080p60) image along with shadow-free LED lighting for incredible image clarity. View your reading materials clearly and even examine the fine details of photos.
Acuity HD  makes it easy. It arrives in one box, so you just have to plug it in to start using it. And Acuity HD includes control options to suit your preferences, coming standard with a detachable Bluetooth remote (with tactile buttons/wheel), touchpad controls and a touchscreen, so you use the controls that suit you best.
Highlights:
22 inch HD widescreen display
1080p60: Full HD resolution, 60Hz refresh rate
Multiple controls: tactile remote control, touchpad or touchscreen
2.2x up to 65x magnification
Shadow-free uniform LED lighting
Up to 20 high contrast modes and 2 photos modes
One box solution: plug-and-play
Reviews