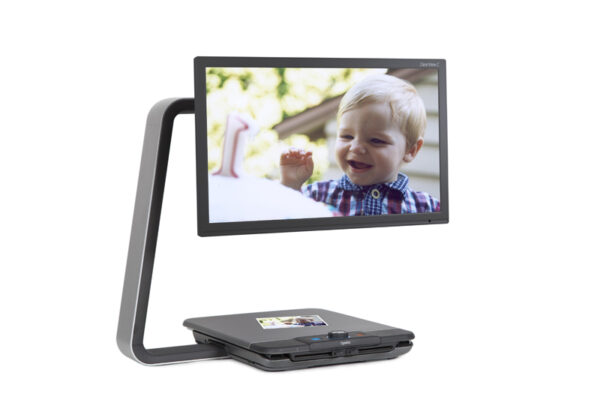 A high-quality video magnifier bringing simplicity and great High Definition images to everyone who needs magnification.
Product Price
$3,757.00

Click to add this item to cart.
Size:
16.5in x 20.1in

(LxW)
Product Description
Simple use
The ClearView C  helps you to read your favorite newspaper, enjoy craftwork or write a check without being restricted in movement. If you are looking for an easy-to-use video magnifier, then the ClearView C  is ideal for you. It offers the most commonly used functions such as adjustable magnification to easily zoom in and out, high contrast viewing modes for better visibility, large overview for better orientation and adjustable brightness.
C-ing without limitations
When we started to develop this video magnifier, we wanted to eliminate all of the difficulties users experienced. After extensive research involving our clients, we came up with a completely new design.
Reading from top to bottom
Thanks to the innovative design of the ClearView C you naturally start to read at the top of a page, and then continue all the way down till you reach the bottom of the page. You will no longer pull the reading table into your stomach when you navigate to the top of the document. This is unique among desktop video magnifiers.
Choose for comfort and design
The ClearView C is designed to increase your reading comfort and to match the interior of your home. It looks modern and stylish so it perfectly fits your living room.
More working space
The ClearView's C-shaped design provides you with more working space. This helps you to do your hobbies and to read your favorite newspaper without being limited in your movements.
Specifications:
Continuous magnification: 2X – 75X
Superior digital video processing for sharp and vivid images
22-inch full color TFT widescreen display
Adjustable document viewing modes:
– Full color photo mode
– 4 selectable high contrast colour combinations to improve contrast for better visibility (black on white, white on black, yellow on blue, yellow on black)
Optional: large Comfort table top; ideal for reading larger documents or doing craftwork
Adjustable brightness
Overview function
Position locator
Integrated lighting for even illumination, and elimination of reflections when reading glossy documents
Easy-glide reading table with X and Y direction adjustable friction and X and Y brake
Dimensions base unit footprint: 16.5 in x 20.1 in
Dimensions XY table: 16.6 in x 16.6 in
Weight: 35.1 lb
Reviews