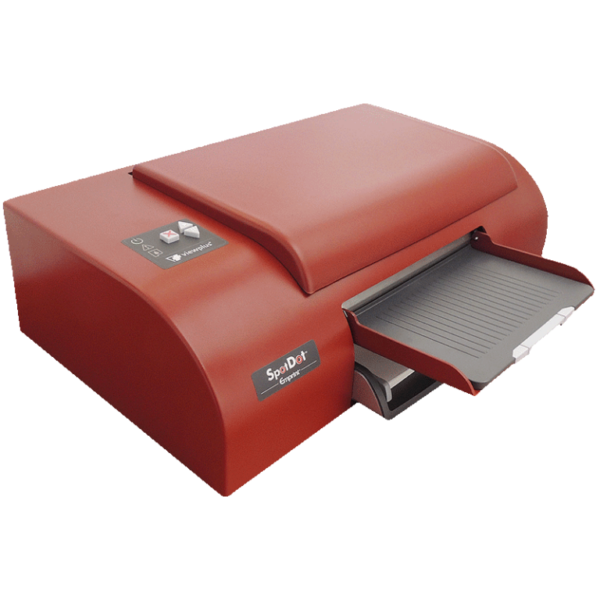 50 CPS | Color Ink & Braille | Cut-Sheet Paper
The VP SpotDot is the first compact desktop printer that prints full-color HP Inkjet along with braille and high-resolution Tiger tactile graphics! No other braille embosser in the world provides as much versatility and flexibility all in one desktop braille printer.
Product Price
$7,995.00

Click to add this item to cart.
Size:
24in x 17in x 7in

(LxWxH)
Product Description
Add ink text to your braille documents with this color ink and braille embosser!
Braille production made flexible and easy
Braille is translated and embossed from MS Word in one touch
Graphics are produced from any PC software including Adobe Illustrator & CorelDRAW
Tactile graphics embossed in fine detail–better than any braille embosser
Tiger tactile graphics are the highest resolution of any braille embosser
Dot height adjusts higher or lower for dark or light areas in images–8 dot heights
Braille & graphics software included–Tiger Software Suite (TSS)
TSS incorporates braille software, tactile graphics studio, and more
Tigers are also compatible with Duxbury, TactileView and other braille and graphics software
Add Wireless Embossing
Add the optional VP Tiger Box and transform your embosser into a wireless printer to emboss directly from your computer or mobile device. Send files from any Android or iOS app that lets you print and have the TigerBox automatically translate and emboss for you on your VP SpotDot – it's that easy! You are no longer limited to only embossing documents made on a computer and saved in a specific format. With the VP Tiger Box and VP SpotDot you can emboss directly from your web browser, email, appointments and lots more!
Highlights:
The world's only braille and color ink embosser!
50 characters/second – single-sided braille
The highest resolution tactile graphics – 8 dot heights
Prints braille and color ink on the same page
Formats Word and Excel documents for braille automatically
Creates raised visual images on paper from anything on the screen
Cut-sheet fed paper – use all types of media
Use braille paper, copy paper, Avery labels & business card templates
Uses the same paper and ink cartridges as an HP printer
Braille and tactile graphics software included
Full online library of free training materials
Local support and repair service
Standard 1-year parts and labor warranty
Includes Tiger Software Suite
Reviews