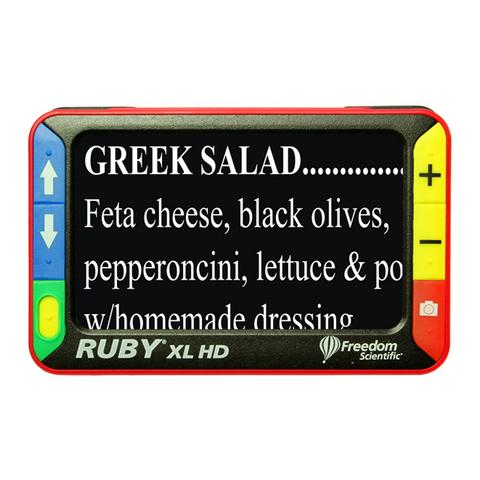 The RUBY XL HD has a larger screen and a high-definition camera for the sharpest possible image. RUBY XL HD has all the advanced features in RUBY HD, plus a built-in reading stand that holds the screen at a comfortable angle as you slide it across a page of text.
Product Price
$987.00

Click to add this item to cart.
Product Description
HD Magnification in an Ultra-Portable Package
The all-new RUBY XL HD puts crystal clear, high-definition magnification in the palm of your hand. The slim RUBY XL HD goes anywhere with you, while the five-inch screen brings out even the finest details. You can magnify materials up to 14 times – books, photographs, newspapers, medications, labels, and more.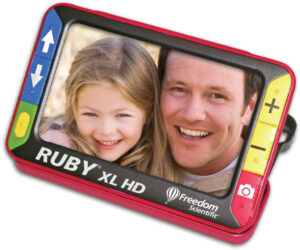 The RUBY XL HD is easy to learn and to use, whether at home, in the office, or on the go. It snaps open to hold the screen at a natural angle, sliding effortlessly across a document as you read. Color-coded tactile buttons make it easy to adjust magnification, select the color mode, or add a reading line or masks. The convenient fold-out handle has two positions for a firm and balanced grip while reading packaging labels or prescription bottles.
Features:
See more on the 5-inch widescreen LCD
Continuous zoom with 2x–14x magnification
Lightweight design at 10.5 ounces
Fast reading with no blur
Built-in reading stand
Two-position flip-out handle
Goes anywhere with 3 hours continuous use
Advanced Features:
Freeze Frame with adjustable magnification
Adjustable Reading Line and Masks to keep your place
20 high-contrast color viewing modes so you can adjust text to be easy on your eyes
Save images and send to computer with USB port
Includes batteries, charger, wrist strap, case, and USB cable
Slide Show mode for hands-free review
Reviews