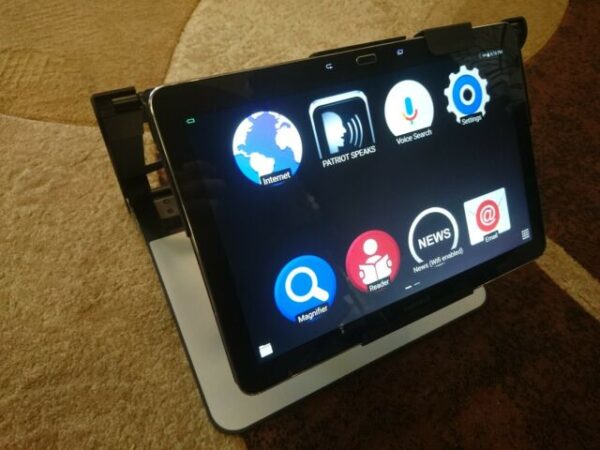 The Patriot VRM is a low profile CCTV that features magnification, OCR text recognition, and distance viewing. VRM stands for Viewer Reader Multimedia and definitely lives up to the expectation. The Patriot VRM 10 Portable Electronic Video Magnifier Reader with Samsung Android Tablet opens a world of accessibility and just became easier through the introduction of our exclusive Patriot VRM.
Because the Patriot VRM 10 is built into an Android Tablet, you have full access to the Android apps – YouTube, music, email, Skype, etc.
Product Price
$2,995.00

Click to add this item to cart.
Size:
8in x 12in x 0.3in

(LxWxH)
Product Description
The Patriot VRM is a unique Video Magnifier combined with a Reader capable of converting print to speech (OCR), and has built-in Email that is magnified and can read aloud, access to the Internet with Voice Search, and have the web magnified clearly to see. A custom stand is attached to allow you to conveniently carry this unit throughout your home or office. Lightweight aluminum stand folds flat for easy transportation and protection.
The Patriot VRM is available with either a 10.1″ or 12.4″ andriod tablet.
An innovative solution combining our custom software on the Android platform. Designed as a video magnifier and text to speech reader, Patriot VRM does a whole lot more. WiFi computing and fully accessible.
Our exclusive custom magnification and our easy intuitive screen reader make operation a dream. Lightweight, Durable, Battery powered, WiFi capable, more.
Overview:
Adjustable magnification
Adjustable contrast colors
Text to Speech OCR
Folds Flat for travel
Battery Operated
Portable & Lightweight
Distance zoom
Easy to Use
Reviews