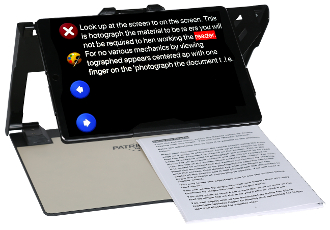 The Patriot Pro Portable Electronic Video Magnifier is both a magnifier and reader on a folding stand making it extremely portable.
An innovative solution combining our custom software on the Apple IOS platform. Designed as a video magnifier and text to speech reader, this unit does a whole lot more. Incredible clear magnification and truly portable. Lightweight, Durable, Battery powered, WiFi capable, Reader/Magnifier/Computer/All in One.
Product Price
$3,995.00

Click to add this item to cart.
Product Description
The PatriotPro 12.9 is the first assistive device that includes a large iPad Pro 12.9" as their fully functional video magnifier and OCR/text to speech unit with them in a convenient backpack. With portable fold up stand, user can use the PatriotPro to magnify text under the tablet's rear camera by simply pinching to zoom directly on the screen. Easy onscreen buttons allow the user to change color modes between 8 different contrasts and freeze the image.
Since the system is a full iPad Pro tablet, the user can check e-mail, surf the internet, create documents and anything else normally done on a computer/tablet. In addition, all the applications available for the iPad Pro can be enjoyed on the machine. Use the large format, bluetooth, keyboard for ease of text input.
The optional distance camera allows the user to focus on items in the distance like a white board or presentation.
Features:
Adjustable magnification
Adjustable contrasting colors
Adjustable by Voice
OCR Text to Speech
Folds Flat for travel
Battery Operated
Portable & Lightweight
Distance zoom and near zoom
Easy to Use
Reviews