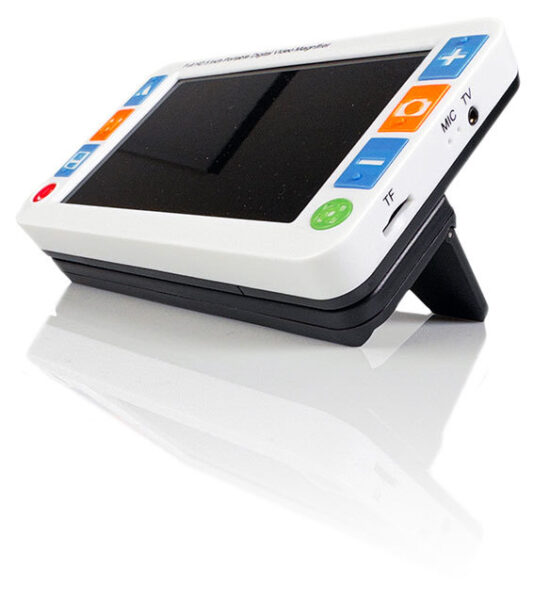 Handheld electronic magnifying unit that is easy to use at home, at a restaurant or in the grocery store. Comes with useful functions such as image storage, distance viewing, freeze image and reading lines
Product Price
$695.00

Click to add this item to cart.
Product Description
The Nara is your companion anywhere you go; at home, to the restaurant or to the grocery store.
Features:
• 2X-32X magnification – for great magnification
• Built-in reading stand – for easy reading
• Lightweight design – easy to carry and use
• 4 hours continous use – for independent
reading
• Freeze Frame – practical i.e. for recipes
• Save images – great for memories
• Reading lines – makes reading easier
• Near and far viewing – for your convenience
• HDMI – connect to external monitor or TV
Nara 5 comes with a 5" screen and a stand that can be flipped out and used as a convenient handle. If you choose Nara 7, you will get a
7" screen with a built-in stand.
Technical specifications:
Dimensions          Nara 5              Nara 7
Width:                     5.7 in                7.68 in
Height:                    3.3 in                4.92 in
Depth:                     1.1 in                0.98 in
Weight:                    9.7 oz              13.94 oz
Camera Near:         HD                    HD
Camera Distance:   Full HD             Full HD
Screen:                    5"                     7"
Reviews