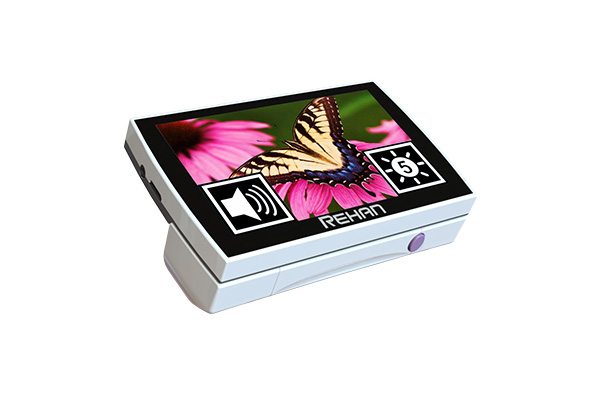 The Looky 5 incorporates a bright, vibrant and intuitive touch screen producing superb crystal clear images and exceptional brightness utilizing the touch interface on the 5″ screen.
Product Price
$699.00

Click to add this item to cart.
Size:
5.1in x 2.9in x 1.7in

(LxWxH)
Product Description
Touchscreen Handheld Magnifier with Folding Handle
The Looky 5 handheld video magnifier features a centrally-located camera to make it easy to find your position on the page. With an ergonomic, foldable handle, this handheld video magnifier can be held like regular magnifying glass or can be folded into a reading stand and used on a table or desk. The Looky 5 also includes a TV connection so you can use it with a larger screen.
Extra Battery Charging Station Available
A separate charging station is also available and includes an extra battery so you can always be sure your video magnifier is ready to use!
Highlights:
5 inch HD touchscreen video magnifier
720p HD image resolution
Magnification of 2x to 20x
Far view function for viewing at a distance
Connects to a TV for larger viewing
2 photo modes and 10 high contrast modes
3 control options to make it easy for beginners and powerful for advanced users
Freeze function (frozen image can be zoomed and panned)
Foldable handle for use on desk or in hand
User rechargeable and replaceable battery
Reviews