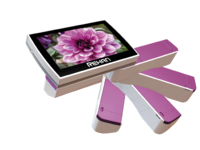 The Looky 4+ features a centrally-located camera to make it easy to locate your position on the page. With an ergonomic, fold-out handle, Looky 4+ is convenient for use on a desk or held in your hand like an magnifying glass. The Looky 4+ is made to be highly intuitive and easy to use with its touch interface and its vibrant touch screen. In addition to all the features of the Looky 4, Looky 4+ also includes saving of 20 images and a TV connection. And Looky 4+ is developed and manufactured in Europe with the strictest standards for quality by the well-known and respected brand, Rehan Electronics.
Before:
$599.00
Now:

$349.00

Click to add this item to cart.
Product Description
Features:
4.3 inch HD touchscreen
720p HD image resolution
Magnification of 2x to 20x
Far view function for viewing at a distance
Storage for up to 20 saved images
Connects to a TV for larger viewing
2 photo modes and 10 high contrast modes
3 control options to make it easy for beginners and powerful for advanced
Freeze function (frozen image can be zoomed and panned)
Use time of up to 2.5 hours
Foldable handle for use on desk or in hand
User rechargeable and replaceable battery
This unit was a demonstration unit with minimal usage. Excellent condition.
Reviews