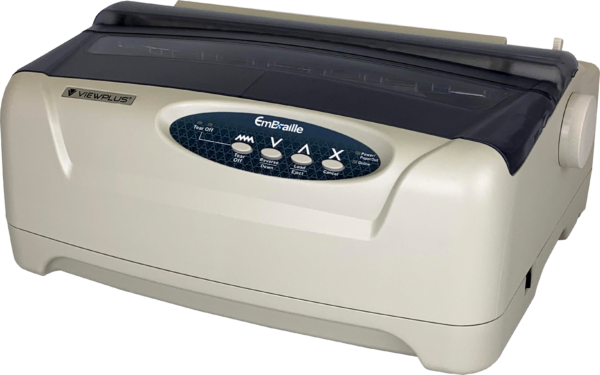 25 CPS | Tractor-Fed Paper
The VP EmBraille is not only affordable but also compact and highly portable making it the perfect option for those who need braille on the go! The VP EmBraille includes the popular Tiger Software Suite braille and tactile graphics software providing a complete solution for braille production.
Product Price
$1,995.00

Click to add this item to cart.
Size:
14.13in x 11.2in x 6.25in

(LxWxH)
Product Description
The VP EmBraille is the most affordable embosser in the world. Compact and highly portable with easy-to-use tractor fed paper, the VP EmBraille is the perfect choice for the classroom, busy professional, or at home.
Add Wireless Embossing
Add the optional VP Tiger Box and transform your embosser into a wireless printer to emboss directly from your computer or mobile device. Send files from any Android or iOS app that lets you print and have the Tiger Box automatically translate and emboss for you on your VP Embraille – it's that easy! You are no longer limited to only embossing documents made on a computer and saved in a specific format. With the VP Tiger Box and VP Embraille you can emboss directly from your web browser, email, appointments and lots more!
Highlights:
25 characters per second
Single-sided embossing
Produces high resolution tactile graphics with multiple dot heights
Tractor-fed paper
Braille and tactile graphics software included
Compact, lightweight design for easy portability
Perfect for individual or home use
Full online library of free training materials
Local support and repair service
Standard 1-year parts and labor warranty
Includes Tiger Software Suite
Reviews