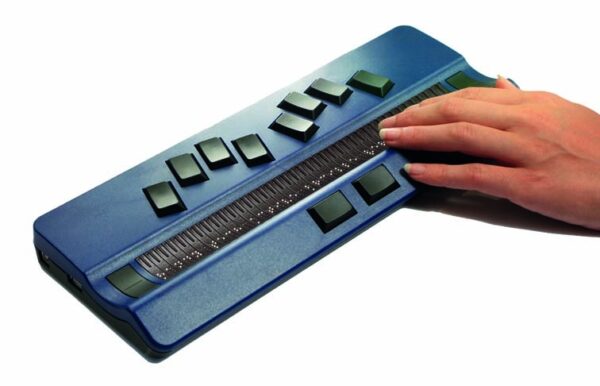 The mobile Braille display for everyday life
The Connect Braille is a 40 character Braille display. You can enter text with the ergonomically designed Braille keyboard. The Connect Braille can be connected via USB to the PC or via Bluetooth to three additional devices, like smartphones. The rechargeable batteries can easily be exchanged himself. Weighing less than 2 lbs. and a battery life of 20 hours, the Connect Braille is your reliable mobile companion.
Product Price
$4,495.00

Click to add this item to cart.
Size:
12.48in x 4.84in x 2in

(LxWxH)
Product Description
The advantages at a glance:
40 concave braille elements with cursor routing
Integrated ergonomic braille keyboard
HID technology – ready to use, without driver software
Connection via USB or Bluetooth
Multiple Bluetooth technology – up to 3 devices at the same time
Up to 20 hours of battery life
The Outstanding Braille Display
Connected via USB to a PC, Connect Braille is immediately ready to use for you. The HID technology allows using Connect Braille without the need of installing a software driver. With the use of HID technology (Human
Interface Device), Help Tech sets new standards for Braille displays. Connect Braille also offers a wireless Bluetooth connection ready to use for PC and mobile phones.
The ergonomically positioned Braille keyboard allows entering text directly with the Connect Braille. By providing two USB connections, you can for example also connect a standard keyboard to Connect Braille.
By using the universal driver of Help Tech, Connect Braille is supported by all major screen readers.
Smart Access
With its integrated wireless Bluetooth interface, the Connect Braille offers convenient access to various smart phones. Multiple Bluetooth Technology of Connect Braille let you connect up to three devices simultaneously via Bluetooth such as iPhone, Android Phone, Tablet or Laptop. Using a short key allows you to switch between the connected devices and the USB interface.
The Perfect Ergonomics
Only the Braille cells of Handy Tech braille displays are sloping backwards and are concavely shaped. The reading area is ideally shaped for the reading finger. When reading on the Connect Braille, the Braille characters can be touched in a natural relaxed hand position.
Reviews