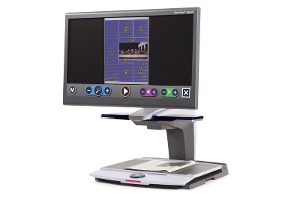 Does reading your newspaper or favorite book become too tiresome with a video magnifier? Now enjoy the Optelec ClearView+ Speech. Just sit back, relax, and listen to any printed documents as they are read aloud.
Product Price
$4,294.50

Click to add this item to cart.
Product Description
Read long documents with Text-to-Speech
The ClearView+ Speech combines video magnification and accurate text-to-speech that makes it easy to select what you want to read. It allows you to enlarge materials to a more comfortable size or change the high contrast viewing modes with one master dial. To activate the Speech feature, just simply touch the screen and instantly enjoy listening to articles, letters and books with a natural sounding voice and full page overview.
Read With Reliable Speech Technology
The ClearView+ Speech can instantly convert and printed text into speech. Now you can enjoy having access to accurate information in a way that is most comfortable and easy for you, especially long text. The Point & Read interface allows you to simply touch the screen for the Speech feature, and then sit back, relax and listen. You also have the option to select video magnification to view photos, bills and read shorter text.
Specifications:
Intuitive 24″ HD Touchscreen monitor
Read long documents with accurate and reliable Text-to-Speech
Point directly at a column, paragraph or word & Read
Capture the whole document with Full Page overview
Navigate quickly with intelligent document layout recognition
Swipe your finger to scroll through the magnified text or photos
Read text in high contrast while viewing pictures in origional color
More than 60 reading voices in over 30 languages
Document and photo storage to reference later
Picture viewer with zoom and slideshow options to view favorite photos
Continuous magnification of 2.8X to 78X
Ergonomic product design with customizable features
Built-in high sound quality stereo speakers and headphone port
3-year limited warranty
Reviews