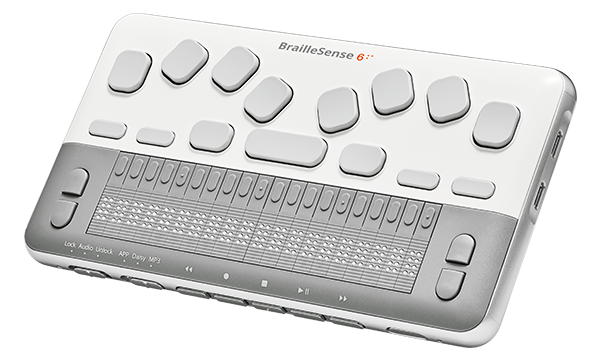 The BrailleSense 6 mini is the lightweight champion notetaker. Designed to be highly portable and powerful, it is the ultimate notetaker when you're on the go.
Product Price
$4,595.00

Click to add this item to cart.
Size:
9.64in x 5.66in x 0.74in

(LxWxH)
Product Description
Small on Size, Big on Performance
BrailleSense 6 MINI offers a new standard in blind-friendly applications with the latest in cutting edge technology. We've kept the traditional computer interface that has contributed to the popularity of other BrailleSense models. BrailleSense Polaris MINI supports Google Apps, making it easy to utilize Google services like Drive, Docs, Sheets, and Slides as millions of other students do every day.
20-Cell Braille Notetaker
Android Lollipop OS
Industry Best Math Support
Ideal for distance and classroom education
Apps built specifically for convenience
Small, lightweight, and very portable
The BrailleSense 6 Mini Highlights:
20-Cell Braille Notetaker
Compact, lightweight
Android 10 OS
Ideal for any situation
Proprietary apps built specifically for ease and convenience on a notetaker.
Braille Cells:
20-Cell Display
OS: Android 10
CPU: 8-Core High Performance CPU
Internal Storage: 128 GB
Memory: 6 GB LPDDR4X
Card Slot: Micro SD Card
Dimensions: 7.08 x 4.06 x 0.91 inches
Weight: 0.95 lbs
Battery: 3400 mAh, User Replaceable
Charging: USB-C, 5V 2.4A
Keyboard: Thickness membrain Perkins and 4 Function Keys
Other:  Lock Switch, Mode Switch, Media Control Keys, Volume Buttons, Power Buttons
Wi-Fi: 802.11 a/b/g/n/ac
Bluetooth: 5.1 dual mode for LE and Classic
GPS: GPS/Glonass/Beidou/Galileo
FM Radio: 65 ~ 108 MHz with 50kHz step
USB: 1x USB Type-C (Device / USB-PD Charging), 1x USB Type-C (Host / USB-C DP 1.2, HDMI)
Video Out: USB Type-C (DisplayPort 1.2)
Video Resolution: 1920 x 1080
Rear Camera: 13 MP, Autofocus, LED Flash
External Camera: Supports the use of plug-and-play USB cameras
Speakers: Mono Speaker 0.8 watt
Microphone: MEMS Stereo Microphone
3.5 mm Jack: 1x 4-pole Headphone, 1x stereo Microphone
Sensors: Accelerometer, Gyroscope, Magnetometer (Compass)
Warranty: 1-Year, parts and labor
Product Maintenance Agreement: Optional, add up to 1 additional year of coverage.
Reviews