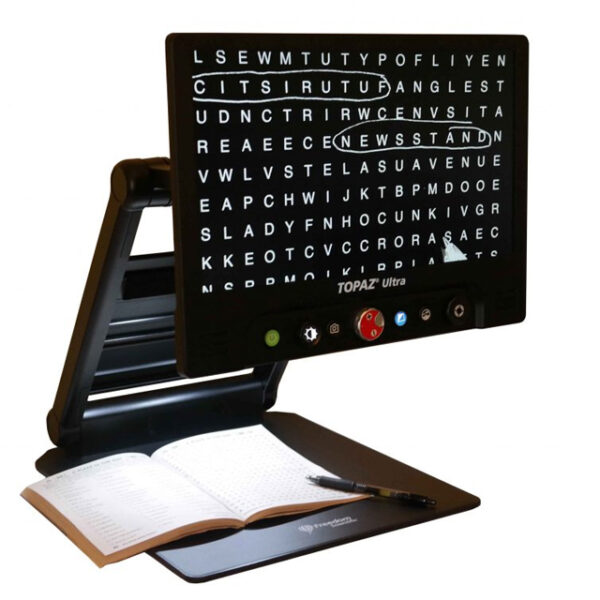 The TOPAZ Ultra is a portable magnifier with a unique folding design, making it extremely easy to take with you wherever you go. With crisp, full-HD images on a 15.6-inch or 17.3-inch screen, clearly see what you want, whether across the room or at your desk. The monitor height is fully adjustable, ensuring you always have the right reading angle. And its compact size lets you store it when not in use.
Product Price
$3,570.00

Click to add this item to cart.
Product Description
TOPAZ Ultra offers the same reading comfort, ease of use, and functionality as a desktop video magnifier – but in a compact and foldable design. TOPAZ Ultra is the ideal solution for individuals who need a lightweight magnification solution in different locations – at home, in the office or classroom, and on the go. Use the TOPAZ Ultra right out of the box to magnify text and objects up close, in the distance, and even look at yourself with its convenient 3-in-1 camera.
Enjoy crisp, clear, full-HD images on a 15.6-inch or 17.3-inch screen. The fully adjustable monitor height makes reading, writing, or viewing at a distance easy at any angle. Our unique folding design makes it convenient to take the TOPAZ Ultra with you, or to store it when you do not need it.
TOPAZ ® Ultra Portable Video Magnifier Features:
– Full 1080p HD with autofocus
– Large and intuitive control buttons
– Video magnifier with a large 15.6-inch or 17.3-inch screen that easily folds away
– Read text and view objects up close, in the distance and view yourself
– Portable with long, 5-hour battery life
– Unique zoom and pan features
– 3 selectable magnification ranges to suit your eye condition
– Read full pages without moving reading material thanks to the movable camera
– View larger images by connecting to your TV screen via built-in HDMI port
Reviews